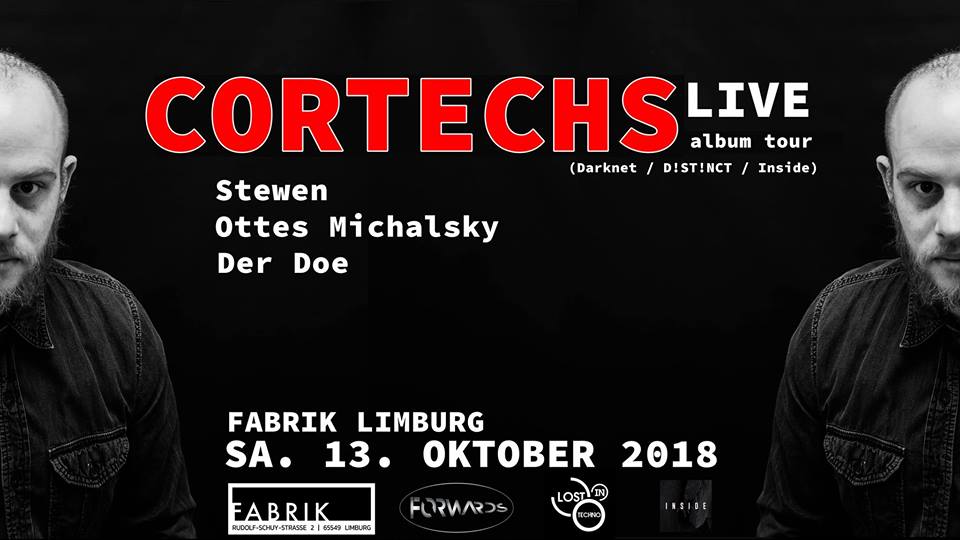 So langsam läuten wir den Herbst ein, am 13. Oktober geht´s natürlich in der Fabrik mit Forwards weiter. Es wird wie immer derbe, dreckig, laut und dark.
Welcome to Mr. Cortechs
Wenn ein Artist, der das letzte Jahr als einer der massivsten Durchstarter genannt werden muss, ist es der Kölner Cortechs.
Er besucht uns zu seiner Premiere in Limburg mit seiner Album Release Tour. Wir freuen uns auf den dreckigen Sound of Cologne ♥.
Natürlich auch mit unseren Residents.
Mainfloor:
█║▌│█│║▌║││█║▌║▌║█║▌│█│║▌║│
✘✘ Cortechs -Live- ( Inside Booking/ Köln)
–> https://www.facebook.com/cortechs/
–> https://soundcloud.com/cortechs
✘✘ Stewen (Forwards / Lost in Techno / Limburg)
–> https://www.facebook.com/stewenlostintechno/
–> https://soundcloud.com/stewen_dj
✘✘Ottes ( Forwards/ Limburg)
–> https://www.facebook.com/ottes.techno/
–> https://soundcloud.com/ottesmichalsky
✘✘ Der Doe ( Lost in Techno / Westerwald)
–>https://www.facebook.com/Lost.in.Techno.DeepRoom.montabaur/
–> https://soundcloud.com/derdoe
Doors: 22.00 Uhr
mde